We have been making some amazing connections with many of the small private mints in the community. They have been very supportive and helpful and we will continue to showcase them in our blog. This week we are honoured to showcase a young man Leif who has been rocking it with his company Ericson Mint, LLC. Please check out his website here. 
Leif started Ericson Mint as a high school student dual-enrolled in classes at Community College. He started out with just a hobby buying, selling, or trading coins online.  His hobby of doing business online had started becoming profitable and he was even selling some silver bars branded "Ericson Mint". Ericson Mint, LLC was officially established on October 8th 2015. 
We will let Leif explain where the name came in his own words.
   "The name came for several reasons.  My father, Eric, had passed away near the end of 2013 and this was still very fresh on my mind.  With my first name being Leif, and my father's name being Eric, Ericson Mint was born.  The name is a tribute to my father and works well with my first name as well as in "Leif Ericson" the explorer/viking.  My logo is a Viking penguin and several of my products have reflected this theme.  One of our products is a simple one troy ounce silver bar in the shape of a cowboy boot.  My father was a very well loved county doctor and he always wore a pair of cowboy boots with his lab coat as he treated his patients.  I loved the sound they made when he would walk down the tiled hallways in the hospital, and they became a symbol to me after his death. "
     Leif has always had a full plate while running the business, including during his last semester of high school when he took 20 college credits. However, it was evident to him that the business could go somewhere if it was given the proper attention. He was selected as one of the National Federation of Independent Business' top 100 Young Entrepreneurs of 2016 which included scholarship money to help pay for his college education. He is now a proud NFIB member and also sits on the Professional Development Committee of the Business Student Senate at Wayne State University in Detroit MI.
     Ericson Mint, LLC currently offers a wide range of unique poured silver products, poured by many of the most respected silver pouring companies currently in the market. Poured silver products do carry a higher premium than generic silver bars or rounds due to the labor that goes into producing such pieces as well as the limited nature brought about by mintage limits.  Leif has experienced great success with his products gaining value on the secondary market due to the limited mintage and quality designs and workmanship.  One example would be the 2.5 ounce .999 fine silver penguin bar released in 2015.  This bar had a mintage limit of only 50 bars and was one of the first bars he offered for sale.  The bars were released at a price of just under $57 each and sold out in only several weeks.  After the sell out, and the success of his other products in the meantime, these original bars have sold for over $200 each and are difficult to find for sale individually.
He has also experienced sell outs for many of his other recent designs including; 
1 Ounce baby penguin.  This adorable baby had a higher mintage of 500 bars.
5 Ounce Igloo.  This production piece was a hefty 5 Troy ounces and had a limited mintage of 100 bars.
1 Ounce Viking Helmet.  The regular silver version of these bars were limited to 250 bars.
1 Ounce Gilded Viking Helmet.  Serialized G001-G100, these gorgeous pieces were a collaboration with Pit Bullion who gilded them in 24k gold.
1 Ounce Gilded Fish.  Serialized G001-G100, These gorgeous pieces were a collaboration with Pit Bullion who gilded them in 24k gold.
2 Ounce Summer Penguin.  This cool slimmer version of the classic penguin was sporting some sweet 24k gold gilded sunglasses (gilded in shop).  With a limited mintage of only 50 bars it was a quick sell out
1 Ounce Blacked Bat.  These Special one ounce silver bars underwent a special process to blacken them and were limited to only 300 pieces.
The following is a small list of some of his current products for sale at this time, but many are already becoming quite limited in stock. Please click any of the product images below to go directly to his site. 
    Currently in production are a rectangular 1-ounce bar bearing the Ericson Mint name and a serial number, but without a mintage limit. 
And also the following limited mintage bars that have not yet reached their limits;
 A 3-ounce penguin,
1-ounce smiling heart
3-ounce igloo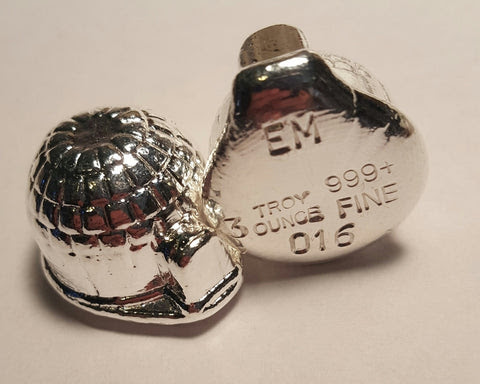 1-ounce fish,
1-ounce cowboy boot
5-ounce polar bear designs.
He also retails some products including the amazing destiny series rounds, Gary Marks rounds, the UK silver stackers rounds, and a Silver Slayer -Special Release Bar, as well as a couple other products. 
Leif has established great relationships with many spectacular silver artists in the community and works closely with them to ensure the high quality of his products. He also plans to continue providing innovative and creativity in his products and gives much credit to his my unofficial team of friends and supporters. Leif has some big plans moving forward and we strongly suggest getting some of his products and he is already on a roll and starting to take off. If you haven't already please check out his website here.