MK Barz and Bullion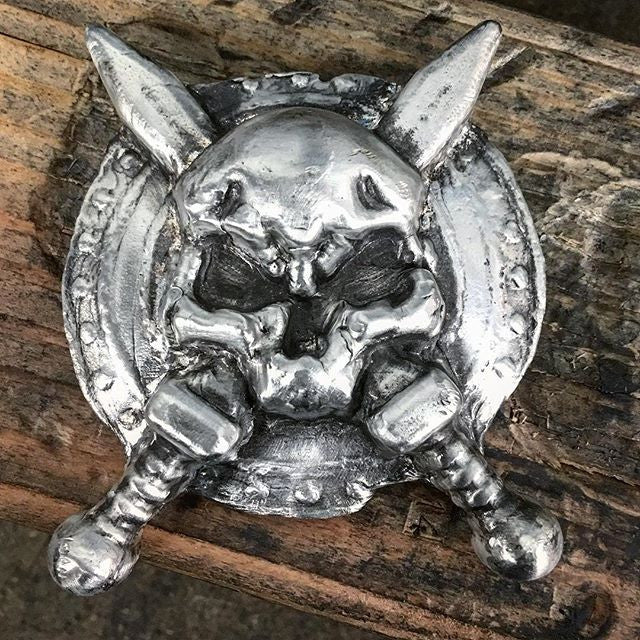 This weeks blog is a mint review on MK Barz and Bullion, a private mint specializing in hand poured silver bullion and silver rounds.  With over 200 different hand poured items, 20 plus different statues, numerous silver rounds, this rapidly growing company has their sights set on becoming a major producer of fine silver products reaching an international level.  With their level of passion and commitment, I feel they are not far from reaching this goal.
It was a real pleasure talking with the owner, Michael and learning about his journey and what led him to where he is today.  Like many of us, he began as a coin collector in numismatics and silver bullion as a hobby but also as an investment, storing value and wealth in precious metals.  Eventually he developed an interest for poured silver products while noticing a market gap for such products.  3 years ago, he decided to take this interest to the next level by creating MK Barz and Bullion.  
In the early days of MK Barz, it was a small operation.  Working by himself in his garage using a single furnace, Michael would design, melt, pour and sell his own products.  Being self taught there was some trial and error along the way.  Using the silver community as a resource and helping him through the growing pains of a new business, he was able to quickly establish himself and lay the foundation for where he is now.
Fast forward 3 years to the present, MK Barz and Bullion has grown into an impressive, high tech, full time operation.  Employing 5 people in a 1500 sq ft building, they are producing roughly 10,000 ounces of product each month!  Essentially operating as a small foundry, they are able to take projects from start to finish very efficiently.  Some of the equipment on site include CNC machine, 100 ton press and 3D printers.  They can produce graphite and wax molds for poured silver and statues as well as sand and graphite castings.  They are even able to produce these for customers who would like to pour their own silver.  
The newest piece of equipment added to the shop is a laser engraver, Michael was pretty excited about having this piece of equipment!  As he and his team become more comfortable with it, they are planning to use it in a few different ways.  It is capable of etching, 2D & 3D engraving information or designs on silver which is pretty impressive. They are currently working on the silver recovery process during lasering but plan to have it fully operational soon.  MK Barz is on the leading edge of the silver bullion industry, we feel this is a first company to employ such technology and are quite curious how it will be received. 
 MK Barz and Bullion have an online store to view and purchase their products.  They also are active on Instagram, Facebook and YouTube.  They have partnered with some big names in the industry for product distribution including Ampex, Provident Metals, JM Bullion, SGB and The Coin Shoppe.  
We'd like to thank Michael and the guys at MK Barz and Bullion for taking the time to share their story on becoming a dominate presence in the silver bullion community.  It was impressive to hear the healthy growth of his company, and humbling to hear that it's his passion for creating new and unique silver pieces that drives them forward.
2 Responses
Leave a comment
Comments will be approved before showing up.